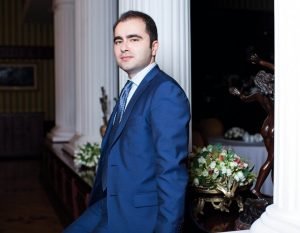 One example of the improvements Adil Baguirov has made as an activist member of the Dayton Public Schools Board of Education comes when you look at the school district's replacement of their fleet of aging school buses with 115 brand-new buses that are among the best available and which come with a 10-year bumper-to-bumper warranty. And he was able to finance them with existing money at a small 2.06 percent interest rate. The new buses are not simply safer and more comfortable for the children, but they are also supported by students and parents. It is expected that the savings on school bus repairs every year will be significant.
In his four active years with an urban Board of Education in a school district that is the second-poorest in Ohio, Adil Baguirov has certainly made a difference. Before he arrived on the scene, the Dayton Public Schools district was very close to having to deal with a state takeover. Now, with his and the other board members' attempts to significantly modernize the system, the Dayton Public Schools are in perhaps the best shape they have been in several decades. In fact, the district received an "A" on their last state report, thus averting the possibility of a state takeover.
Of course, Adil Baguirov considers himself extremely passionate about his community of Dayton, Ohio. That is why he ran for the Board of Education in 2013. He feels it is very important that he gives back to the people of Dayton as much as possible. He insists that the areas of education, technology and fiscal accountability are the most important issues in any community, which is why the Dayton Board of Education seems like such a great fit for him.
Whether business, public service, nonprofit or academia, Dr. Baguirov possesses the necessary skills, education and experience to add value for the community, listen to citizens, and fight for taxpayers. Being competent and doing the right thing does not translate to being popular, since right decisions are frequently the hard decisions. With so many inexperienced, poorly-educated, corrupt and nepotistic politicians who kick the proverbial can down the road, passing on major problems to the next generation, it's important to have leaders like Dr. Baguirov who will fight for us, and will cut waste, fraud and abuse by special interest.